Have not you downloaded the free game Disequilibriums on your Android? Do not wait any longer and start an incredible adventure! "Cities collapse. Get CREATIMINDS to save them and avoid STATICS attack "Enjoy the game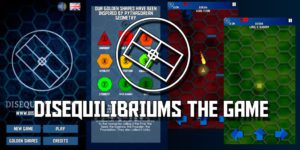 ECUUP Foundation supports any of the creative arts of the "Creative Economy" supported by the United Nations. One of them is the development of video games. In this case, inspired by the transmedia narrative project DISEQUILIBRIUMS, a video game has been developed where the player has to prove his audacity and overcome each of the levels. The beginning of each level begins with the description of a real imbalance that happened in a city of the world, when overcoming obstacles the players will get in each level to save the city and will show the real event and how the inhabitants of these cities could solve it or, unfortunately, still live with them.

ECUUP Foundation has funded this project. The development has been made by the young creative David Begueria of the company TRINIT Computer Association of Zaragoza (Spain). The music of the game has been composed, interpreted and mixed by Jorge Sarnago (8Noise).